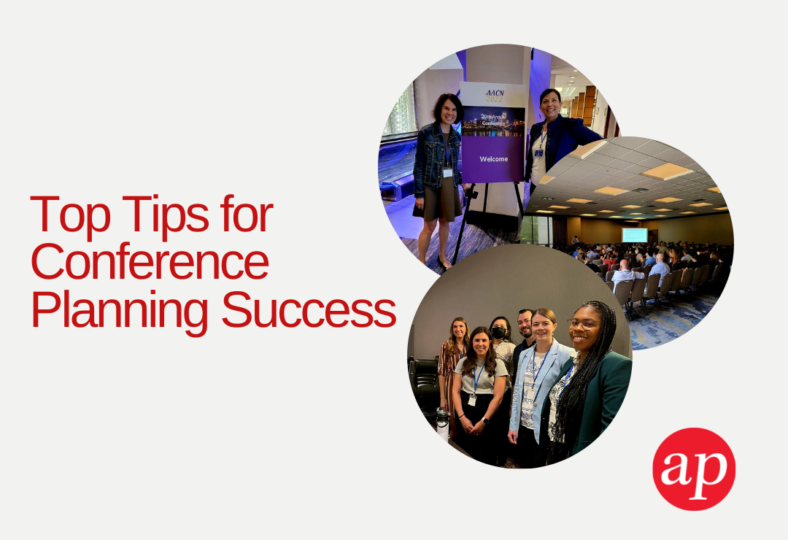 Last week the Ann Plans team had a blast being onsite with a new client for their first in-person national conference since 2019. Although the number of in-person attendees was down compared to pre-pandemic conferences, the energy of those who traveled to Minneapolis was supercharged. People are so happy to be back together!
As our team debriefed on the success of last week's three-day conference, here are ten top tips that bubbled up for conference planning success:
1. Do a scheduled walk-through the day before your conference starts. Include your venue leads and conference leadership and administration in this important meeting. Make sure everyone is familiar with the location of key spaces including meeting rooms, restrooms, and the business office.
2. Have all hands on deck for the start of registration and your opening sessions. Anticipate that there will be lots of questions as people get settled. Have plenty of staff and volunteers available on Day 1 to help direct attendees and provide welcoming hospitality.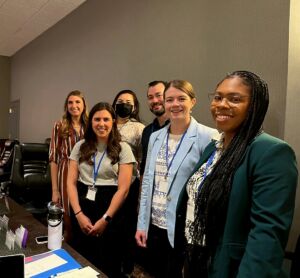 3. Assume there will be last-minute cancellations of presenters due to illness or flight delays. Last week some of our pivots included rescheduling one offering to the next day and livestreaming presenters who were unexpectedly unable to travel.
4. Take advantage of any electronic signage the venue offers. For last week's conference, we confirmed several days in advance that we had a 75-character limit for the signage outside the breakout rooms, and we edited the session names to fit perfectly.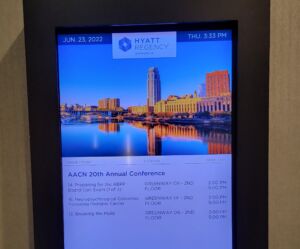 5. Set up your presenters for success by having a well-thought-through plan for AV support. Check in with each presenter as they are setting up as well as having AV technicians making the rounds before each session. Provide AV support contact info in each meeting room in case presenters encounter glitches in the midst of their presentation.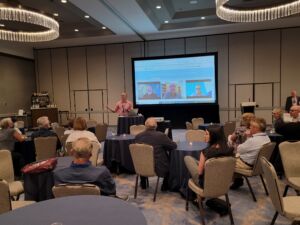 6. QR codes were an efficient way to track CEUs at last week's conference. Volunteers were stationed outside each session to assist attendees with scanning. Have a back-up plan for recording the CEUs in instances where someone's phone isn't doing the trick.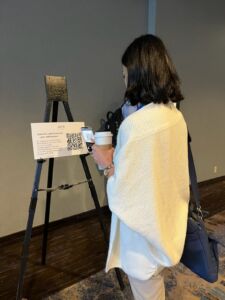 7. Keep in mind that COVID-19 is still a real concern. Last week we provided extra space for people to spread out in the breakout rooms and during meals.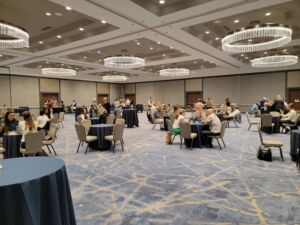 8. Have a plan for ensuring restrooms stay clean and well-stocked throughout the conference. Confirm the cleaning schedule with the venue and make sure someone from your team is checking the restrooms at the start of each day and in between sessions.
9.  Arrange to have a mother's room as a quiet space for lactation. We had two small rooms available for this purpose last week. These comfortable and private spaces were much appreciated.
10. Offer healthy choices at breaks! The large cookies were a big hit last week, and so was the hummus with fresh veggies.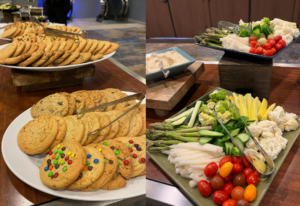 The Ann Plans team wishes you a relaxing and safe July 4th holiday.
Warmly,
Ann