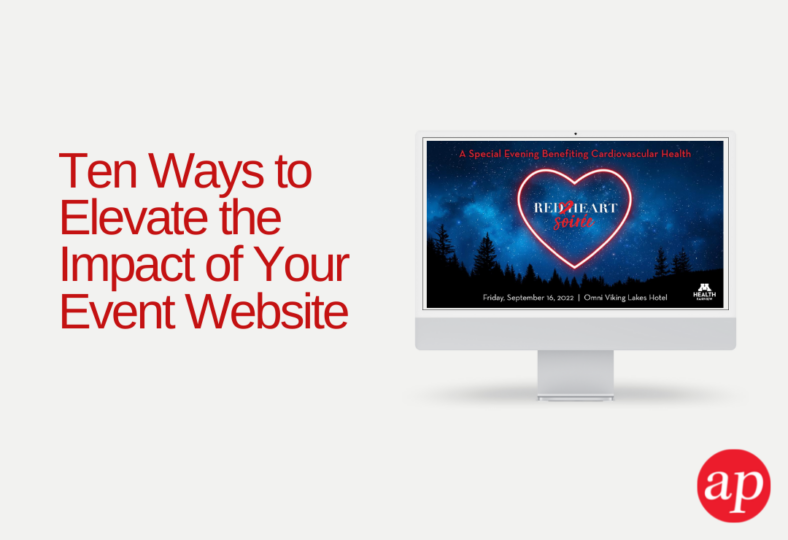 As the spring event season comes to a close, we're guessing you share our gratitude and enthusiasm for the strong return to in-person events. Guests have been thrilled to be back together in event spaces, and supporters have been generous.
One way Ann Plans helps position clients for event success is by providing guidance on marketing strategies and collateral. We focus a lot of attention on the event website as THE place where all important and exciting event details are captured.
Here are ten of our favorite tips for making sure your event website checks all the boxes:
1. Have you ever gone to a website and struggled to find the date, time, and/or location for an event? Make sure these critical details are front and center.
2. Be proactive in providing information your guests will be curious about such as parking options, suggested attire and your menu.
3. Use photos to generate excitement about the experience you are planning. Photos can include your featured speakers and entertainers.
4. Are you serving a sit-down meal? The registration portion of your site should prompt guests to make their entrée selection (i.e. Chicken or Vegetarian) and indicate if there are dietary restrictions.
5. Highlight how the dollars raised through your event will make a difference. This will help plant the seed for a successful night of fundraising.
6. For online auctions or auction previews, use your website to make your items shine. Write irresistible auction descriptions that highlight key selling features (be sure to include restrictions), and use high-quality, engaging photos.
7. Before your site goes live, review the language on confirmations and receipts that will be automatically generated when people buy a ticket, make a donation, or win an auction item. This important step is often overlooked!
8. Offer guests the opportunity to cover credit card fees if that's an option with your website platform. We find most people are happy to cover those fees for organizations they support!
9. Provide easy-to-find contact information for anyone who has questions.
10. Update your website once your event has taken place. Share fundraising results, photos from the event, and "save the date" information for next year.
Your event website can and should be a year-round resource showcasing your event plans and details.
We wish you a relaxing and fun holiday weekend, and we look forward to seeing you for the summer event season!
Warmly,
Ann