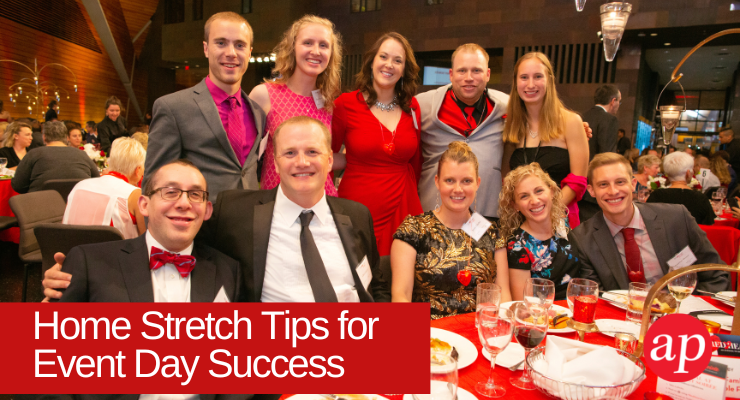 Have you noticed there is an unusually high number of galas happening this summer? And, we are seeing more nonprofit events scheduled for September than in previous years. The pandemic has, without a doubt, impacted how events are clustered this year.
Ann Plans is busy preparing for two large events next week making sure all the I's are dotted and all the T's are crossed. Here are some home stretch best practices to implement in the final two weeks leading up to event day to help ensure your event is as flawless and successful as possible.
1. Do a script walk through with all the speakers in your program to ensure everyone is comfortable with messaging and the transitions for getting on and off the stage. This meeting can efficiently be done via Zoom.
2. Create a detailed schedule and checklist of everything that will be happening on event day. Include the vendor schedule, when each area of the event will be set up, the rehearsal schedule, times when volunteers and speakers will be arriving, and the program run of show.
3. Prioritize setting up event night fundraising for success. The best way to do this is to secure precommitments for your special giving opportunity and get top donors excited about your live auction packages.
4. Send reminder communications to registered guests confirming important details such as time and location, parking and attire information, and fun elements of the guest experience. We recommend sending two emails the week of the event.
5. Be proactive in developing contingency plans addressing "what ifs" including if a speaker cancels due to illness or the possibility of inclement weather.
6. Check in with all your vendors to confirm contact info for day-of-event leads, load-in and load-out schedule, and details of what they are providing.
7. Create a packing list of materials that need to make it to the venue and identify who is responsible for bringing each item.
8. Provide your photographer with a shot list to set them and you up for success in capturing all the "must have" images. Identify specific photos that will help market future events and provide good documentation of all elements of the event experience.
9. Make plenty of copies of materials that will be helpful to staff, volunteers, and speakers onsite including floor plans, table assignments, and the script.
10. One of our favorite best practices is make it a priority to take care of yourself during the stressful days leading up to your event. Make time for walks, yoga, or time with friends – whatever recharges you.
Event day is always our favorite day at Ann Plans. We hope these tips help to make your next event amazing!
Warmly,
Ann