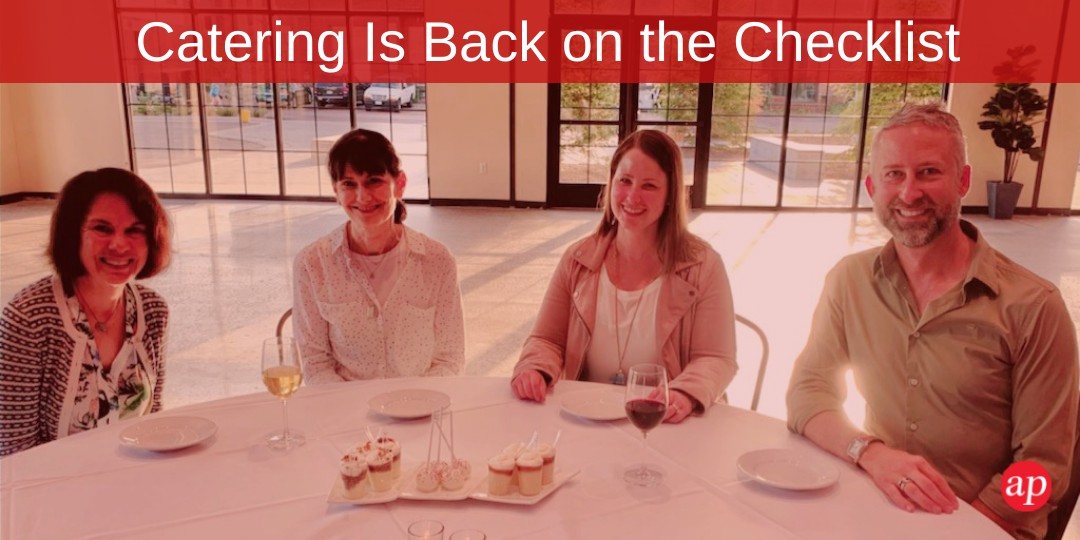 In-person events are back! This spring feels almost like a normal pre-pandemic event season. The return of bringing people together at event venues means tasks such as décor plans, seating charts, volunteer coordination – and menu tastings, are back on the checklist.
The quality and presentation of the food and beverage service at your event are a key component of the overall guest experience. Be sure to take the time to do a well-planned menu tasting.
Ann Plans is made up of a team of foodies, and an interesting fact about me is that I worked in the culinary field for several years. Here are our favorite tasting tips that will result in delighted guests:
1. When negotiating your catering contract, make sure you understand the policies related to menu tastings. Some caterers offer tastings at no charge; others have a per person fee.
2. Caterers often offer group tastings at no cost but charge for private tastings. If your budget allows, we recommend going with a private tasting so you can customize the tasting menu to be in alignment with your event goals and budget.
3. Ask your catering partner for recommendations on what to include on your tasting menu. Knowing what menu offerings are most popular is always helpful.
4. Chefs love the opportunity to be creative! Share your event theme and vision with the culinary team to help inspire some amazing customized items.
5. Are you offering complimentary wine with dinner or a signature cocktail during the reception? Make sure your tasting includes these beverage options.
6. For entrée service, most clients are choosing a menu that ticks the box of being gluten-free. Creative vegetarian options should be included on your tasting menu.
7. Be open to being surprised! One of the beauties of a tasting is you may end up with some choices you wouldn't have selected based on the written menu description.
8. Confirm that your catering contact will have a printed menu for each person at the tasting. This helps facilitate note taking and decision making.
9. Snap photos of each plate that comes out of the kitchen, and include some fun photos of your team of tasters. Leverage your photos on social media. People love food porn!
10. Make the catering at your event experiential. Pouring a signature cocktail through an ice luge or featuring an interactive dessert station are a couple of fun options.
Event attendees are thrilled to be back together in person, and your food and beverage plan can be the icing on the cake in creating an amazing experience. Bon appétit!
Warmly,
Ann