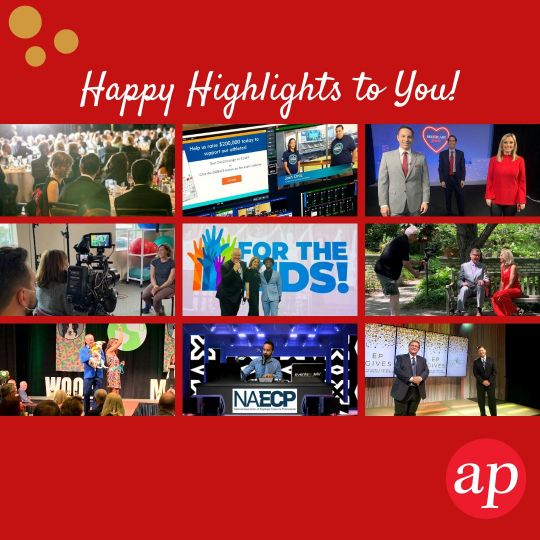 Where has 2021 gone?
While the past 12 months have flown by in many ways, we realize this has been another especially challenging year for many people.
We hope that in the midst of the continued implications of the pandemic, you have experienced many special moments and created some wonderful memories. Be sure to take time this season to celebrate, recharge, and reflect on the great things you have accomplished this year.
As we get ready to launch into 2022, here are 12 of the highlights that inspired the Ann Plans team and warmed our hearts this year:
1. At the very top of our list is our continued gratitude for the generosity of donors in our community. Whether gathering virtually or in-person, many clients raised more money than ever through their 2021 event. Another indicator of the strength of fundraising is the recent Give to the Max Day which raised a record-breaking $34 million.
2. Nothing inspired us more than the many stories we had the privilege of sharing through our video production work and coaching of event program speakers.
3. We had the opportunity to work with a record number of first-time clients including Boys & Girls Clubs of the Twin Cities, Eden Prairie Community Foundation, Minnesota Landscape Arboretum, Treehouse, and Way to Grow.
4. While the vast majority of our 2021 events were virtual, we were also grateful for the return of in-person event experiences. Our first time with guests "back in the room" was Hill-Murray School's hybrid event in late April.
5. We enjoyed the challenge of making virtual and hybrid event experiences as engaging as possible. This included getting creative with set designs and lively virtual after parties.
6. Earlier this month a client shared that she "trusts the Ann Plans team with her life." We are beyond grateful for the nonprofits who choose to partner with us year after year.
7. Sarah Patnode, who started with Ann Plans right before the pandemic as our social media specialist, expanded her role with us as an event producer in 2021. And, Kathy Chimento joined the team!
8. We worked with some of the most talented and community-minded emcees in the Twin Cities including Mike Augustyniak, Belinda Jensen, Kendall Mark, Jennifer Mayerle, T Mychael Rambo, Vineeta Sawkar, and Gia Vang.
9. Our team loves the opportunity to work in new venues. This September we produced our first event at Quincy Hall, and we look forward to event number one at the Omni Viking Lakes Hotel in 2022.