Who doesn't love a great story? Meet Dan West, a master at telling stories through video. Dan is the CEO and Executive Producer at Blue Key Media, a frequent Ann Plans partner in producing videos for our nonprofit clients.
This month I sat down with Dan to discuss a number of topics including how video content became not just increasingly important during the pandemic with the shift to virtual events, but essential, in producing fundraising events that are engaging and move supporters to give.
Most recently we have been working with Dan on the Guthrie Theater Virtual Benefit which is available for viewing one-night-only this Friday, June 25. This event provides a great opportunity to experience Blue Key's work plus enjoy a special musical performance by Leslie Odom, Jr. of Hamilton fame.
Register for free: www.guthrietheater.org/benefit.
Here are insights and tips from my conversation with Dan. 
How have virtual events changed the way organizations think about video assets for their event?
Many nonprofits used to produce just one video for their events, but virtual events have necessitated and opened the door for exploring how to use multiple video elements to keep the audience engaged. During the pandemic, video played an important role in taking people places that they weren't otherwise able to go.
What is the ideal length for an event video?
This is a great question and there isn't just one answer. In order to maintain a captive audience throughout the event program, it's important to keep content concise and fast-paced. Our recommendation for nonprofit event videos is most often 3 to 5 minutes. For videos where the goal is to grab the audience's attention right off the bat or provide a heartfelt thank you at the end, 1-2 minutes is typically the appropriate length.
How do you define a successful nonprofit event video?
When working with a client, one of the first things we do is make sure there's clarity on the main goal of the video. In many cases, the videos we produce for nonprofits are designed to highlight the impact of the organization's mission and inspire people to donate generously. It's exciting, too, when videos give people new insight into the mission and services of a nonprofit.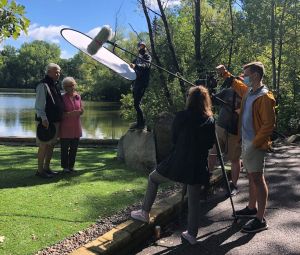 What are some creative ways nonprofits can make their videos stand out?
Focus more on the people you impact than what your organization does. Spend time identifying the most interesting and compelling patient or client stories. Show, don't just tell, by making the video as visually interesting and informative as possible. When possible, take people behind the scenes to places they might not typically get to see.
What tips do you have for preparing for a video shoot?
Clearly understanding the story you are trying to tell in advance of the shoot is super important. I recommend doing pre-interviews with those being featured in the video to gain greater insight into the story to help map out how most effectively to tell the story. This pre-interview also provides an opportunity to be proactive in determining b-roll opportunities. B-roll is the extra footage, such as video clips and photographs, that supports the story and adds visual interest. When possible, Blue Key likes to visit the filming location in advance to determine any sound or lighting challenges.
What are some tips for preparing people who are being interviewed?
Doing an interview is an unnatural thing for most people, so the most important thing you can do is help people feel comfortable. Share sample questions with the interviewees in advance, but encourage them to not try to script their answers. Provide guidance on what to wear. Our team strives to help people feel like they are having a casual conversation over coffee rather than feeling like they are performing. Knowing that their remarks will be edited and that they can restate responses, also help to put people at ease.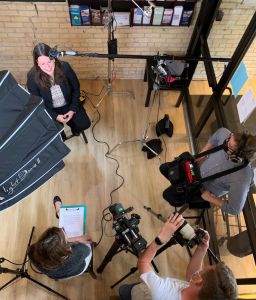 How can nonprofits maximize their investment in a video?
Share videos as widely as possible after the event in follow-up email communications to donors, on social media and your website, and at other events. When planning a video shoot, think of all the event and marketing elements you can capture. We've started recording very short promotional segments to be used before the event, thank you videos to post after the event, and additional b-roll footage to be used for future projects to help clients get the most bang for their buck.
For additional inspiration, check out the links to some of Ann Plans' favorite video collaborations with Blue Key Media:
Thank you to Dan for sharing so many great insights. We love working with the Blue Key Media team and look forward to collaborating on more productions in the future that highlight and support the work of the nonprofit community.
Warmly,
Ann
Senior Event Producer