How are your plans shaping up for the rest of 2021? It feels great to be dining out again, making travel plans, attending baseball games and graduations, and planning in-person events.
With large gatherings resuming with fewer and fewer restrictions, nonprofits are creating and embracing many models for hosting events over the next several weeks. There truly is no "one-size-fits-all" event solution for the current times.
As the Ann Plans team navigates the return to normal with clients, formats for events happening over the next several weeks include:
Staying 100% virtual with a focus on promoting watch parties.
Hosting an in-person preview party for major donors several days before the virtual event.

 

This social gathering with key supporters provides a great opportunity to share highlights of the upcoming virtual event and invite their participation in making a precommitted donation to help inspire the generosity of others.
Producing a virtual event with a 

small studio audienc

e of 50-100 guests.
Planning a hybrid event with several hundred guests attending in-person with a livestreaming option for people to watch the program from home in real time.
Returning to a 100% in-person event with no plans for livestreaming the program. In lieu of broadcasting the program live, some organizations plan to produce an event highlights video or have the full event program available for viewing at a later date.
Feeling stuck on the best format for your next event?
Use this checklist to evaluate options and create the best possible event experience for your organization and guests: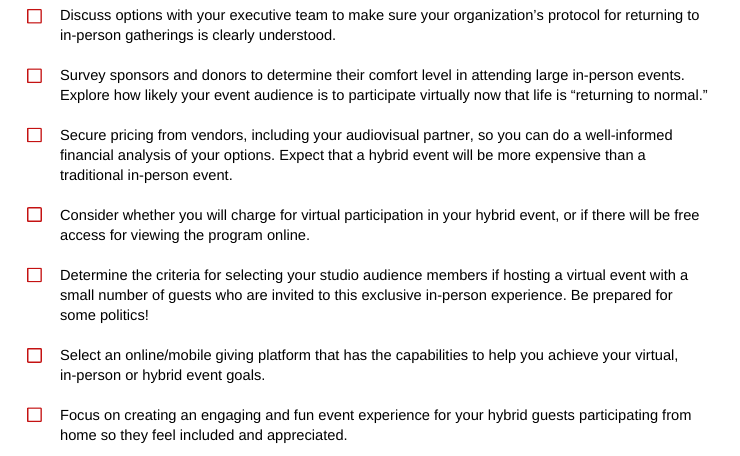 Our team is feeling so energized by the return to normal, and we look forward to gathering with you, our friends and clients, in many different ways in the coming days and weeks. Wishing you a wonderful holiday weekend!
Cheers!
Ann