This past Saturday was a big night – in more ways than one! For the first time in over a year, Ann Plans was onsite for an event with in-person guests.
While most events on our schedule between now and this fall are being planned as virtual events, things are starting to open up with some organizations planning for hybrid events.
Saturday's hybrid event had about 250 in-person guests plus households and small watch parties participating virtually. The best news is that the people in the room and the virtual audience together helped this school raise over $1,000,000 for scholarships and other student needs.
Slowly but surely, in-person events are coming back! Best practices for hybrid events will continue to evolve in the coming weeks and months.
Here are 10 tips to help plan for a successful hybrid event: 
1. Focus on your virtual audience. You know you can throw a great in-person event. The bigger challenge is creating an engaging event experience for your virtual audience so those watching from home don't feel like an afterthought.
2. Manage expectations. For your guests joining you in person, be sure to clearly communicate in advance what social distancing and food/beverage protocol will look like per health department COVID guidelines.
3. Keep the program short. A valuable lesson learned through virtual events is that it's possible to pack a lot of inspiring content into a short, fast-paced program. Our recommendation on length for most hybrid programs is the same as virtual programs: 30-40 minutes.
4. Start on time! With an in-person event, it's typically not a big deal if your program starts a few minutes late. That changes, though, when you have guests tuning in from home. If you promote that your program starts at 7:00 p.m., be committed to starting the livestream at exactly 7:00 p.m.
5. Add visual interest to the program. Work with your AV and décor partners to design a stage backdrop that translates well both in a ballroom and on screen at home. A well-designed, well-lit background will add energy and excitement to your event for both audiences.
6. Invest in production. Partner with an AV company that is savvy and experienced in producing a seamless program for two audiences simultaneously. Creating a captivating livestreaming experience for your virtual audience isn't as easy as it seems! Camera work that shows shots of the in-person audience (like at the Oscars!) will greatly enhance the production value for people watching from home.
7. Highlight your at-home audience. Incorporate program messaging that welcomes and acknowledges the folks tuning in from home. During the main fundraising, reference the names of some of your virtual guests who have made significant donations. Consider "checking in" with one or more watch parties by showing them on the screens in the ballroom. Encourage at-home guests to share photos on social media using your event hashtag.
8. Promote watch parties. With more and more people getting vaccinated, it is easier now to promote and encourage watch parties. To help ensure you have a captive virtual audience, make sure your watch party hosts are primed to gather their guests around the screen at "show time."
9. Take the auction online. Host your auction online so as many people as possible can participate! If you plan to include a live auction in your program, make it possible for your virtual guests to participate in bidding by having a proxy bidder in place for them.
10. Add a virtual after party. Include a post-program experience as a fun engagement element for your virtual guests. One great option is an after party hosted by a DJ with games such as trivia, name that tune, or musical bingo.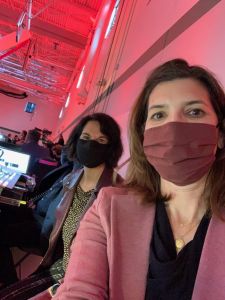 Over the last year, virtual fundraising events have exceeded expectations. Whether participating in-person or virtually, we have such a generous community!
We are thrilled that people are now able to begin gathering in person again, and we are excited to help make magic happen for nonprofits through hybrid event experiences. Looking forward to seeing you soon!
Cheers!
Ann and Sherri