Introducing Our Word of the Year
Greetings from the Ann Plans team! We hope your 2017 is off to a great start in pursuing what you hope to accomplish and experience this year.
Each year we identify a word to guide our work with clients, and the word for 2017 is Precision. This month's newsletter offers insight into some of the ways we are working with our nonprofit partners and vendors in making our event planning and implementation as precise and sharp as possible.
I also incorporate the word of the year into my personal life. Precision is guiding my fitness endeavors as I work towards improving my running, biking, swimming, and strength training form to allow for maximum strength and efficiency.
I am so excited for what awaits all of us this year. It feels like a great time to hone in on what we are good at and get even better!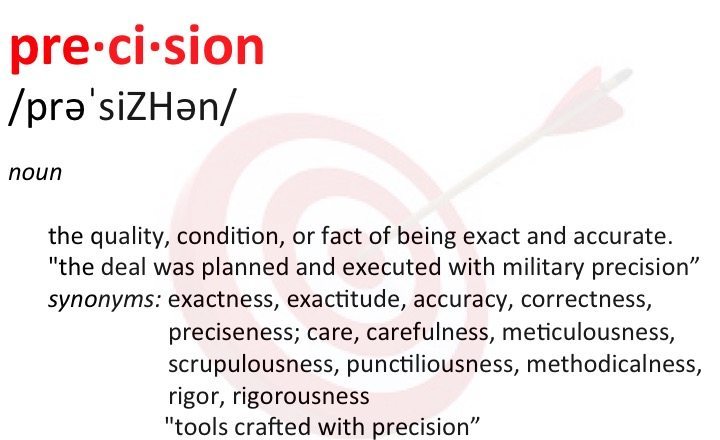 Let's Do It with Precision
As we embark on a new year, we are tightening up and improving processes and systems aimed at planning that leaves no detail forgotten. Here are some tips for planning with Precision:
Take the time to create a super detailed planning timeline – and make it a practice to review it weekly. Be sure to include action items and dates for securing each vendor, creating all print pieces, mail dates, social media posts, when your food guarantee is due, and post-event activities.
Walk the event venue with your vendors early on in formulating plans for components such as audio visual, décor and auction technology.
Meet with each of your speakers at least two times pre-event to ensure their remarks are on track with the identified key messages and are as impactful as possible. Don't be shy about giving feedback! Instill in each speaker the importance of staying within their scheduled amount of time.
Prepare for the worst. Taking time to plan for unlikely and unpleasant situations that could throw a wrench in the execution of your event will help you navigate with as much precision and confidence as possible. Consider how you would respond if one of your scheduled speakers doesn't make it, there is a medical emergency, or the weather doesn't cooperate.
Make sure there is a staff person or lead volunteer clearly assigned for oversight of every component the day of your event including auction set up, catering, volunteer coordination, décor installation, audio visual, and stage management.
Create a timeline specific to the set up, execution and take down of your event. Include when each vendor is scheduled to arrive, delivery schedule, every aspect of set up, onsite meetings (i.e. with the catering staff), sound check, volunteer arrival, and detailed show flow of what is happening once the guests arrive.
Rehearsals are invaluable insurance. Schedule time on event day to run through the script making sure all audio visual cues are clearly marked. Test videos and run through PowerPoints. Have each of your speakers do a run through on stage, and practice transitions.
Learn from each event! As much as we strive for precision in all aspects of an event, every event provides the opportunity to discover something we can tighten up or do differently.
Your Ideas, Please!
The Ann Plans team has been having fun generating ideas for the 2017 monthly newsletters. Do you have a topic you would like to see covered? Please email me with your ideas. We would love to know what you would find of value!
Regardless of what is inspiring you professionally and personally in 2017, think big and have fun. Let's make it an amazing year!
Warmly,
Ann